Site Grading & Yard Drainage
Vreeland Brothers Landscaping has a long standing reputation for providing high quality and effective drainage solutions for your home and surrounding property. Effective drainage starts with proper site grading, and Vreeland Brothers has the expertise to assess and regrade your existing site, or help you plan and grade a new site.
Vreeland Brothers Landscaping has a wide range of experience in handling all aspects of your site drainage. From simple downspout leaders to sophisticated underground systems, you can trust Vreeland Brothers to handle your project with professionalism, expertise, and our usual attention to detail. Our drainage services include:
Gutter Downspouts & Leader Drainage
Underground Drainage Distribution
Driveway Drains (Including Cut In Drains, and Garage Aprons).
Catch Basins
Seepage Pits
Drywells
Foundation Draining
In addition to basic site drainage, Vreeland Brothers Landscaping is experienced in dealing with foundation drainage and water issues. If your current basement is taking in water during heavy rains, or you are planning new construction and want to get it right the first time, Vreeland Brothers' full range of services can keep your basement dry for years to come. We specialize in:
Proper Grading Around Basements & Foundations
Swails & Water Diversion
French Drains / Curtain Drains
Footing Drains
Sump Pump Installation
Basement Wall Excavation
Stone & Masonry Wall Repair, Plaster & Tarring
Repairs To Leaking Point Of Entry (Water, Sewer, Electrical Conduits)
Just Say NO! To Corrugated Pipe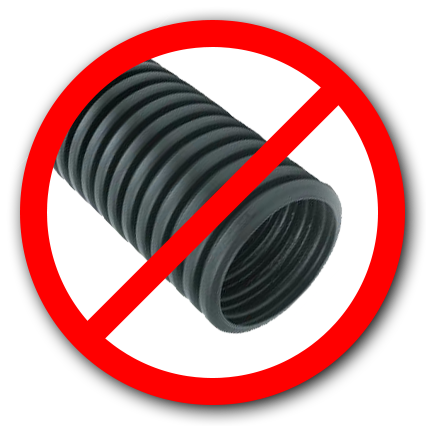 Buyer beware of companies that intend to use corrugated flexible piping for your underground drainage. While this may save you some money up front, repairs to these systems when they inevitably fail are usually very expensive. Some of the many problems we have seen over the years include debris clogs, sagging due to erosion, pipes crushed due to weight overtop, or root and other vegetation intrusion into the piping. These pipes cannot be serviced with traditional snakes or line clean out techniques.
Vreeland Brothers uses only schedule 40 and schedule 80 PVC hard piping to give you a reliable and serviceable drainage solution that will last for years to come.
Give us a call today to discuss your site drainage needs.